Celebrities read to the children of Burgas on "Favorite book from my childhood"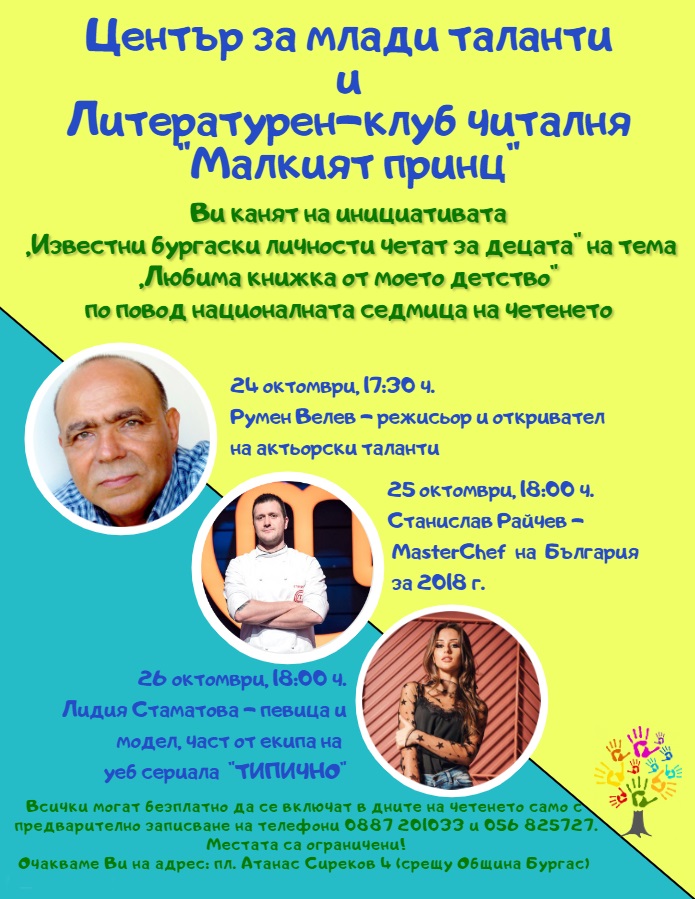 In the national reading week, the only European certified center for working with talented children in the city of Bourgas and the Literary Club - Reading Room The Little Prince organize the initiative to encourage reading. Famous people read to the children of Burgas, the theme is A Favorite Book from My Childhood. In the period 24.10.18 - 26.10.18 the center will welcome distinguished people from Burgas, the children of the city will have the opportunity to touch the inner world of the guests, to hear the fairy tales of their childhood and to ask questions that concern them.
The campaign starts with the famous Burgas director and discoverer of acting talents Rumen Velev who will introduce to the children the works of Exupery. The second evening the audience will be acquainted with the Masterchef of Bulgaria in 2018 - Stanislav Raichev. He will present the beloved Astrid Lindgren and her Carlson Who Lives on the Roof. Finally, lovers of children's creativity will also be touched by one of the youngest but growing in popularity - Lydia Stamatova singer and screenwriter, part of the team of the web series - TIPICHNO.
Reading children use their imagination, put themselves in the shoes of the heroes of the stories. Books help young people see new worlds and reach their full potential, which is also a major mission and goal in the work of the literary club The Little Prince and The Center for Young Talents. Children need children's books and books need children to show them their world.
And as the great Einstein said, "If you want your children to be intelligent, read their tales, and if you want them to be even smarter, read more tales to them." commented on the idea of ​​the event Liliana Slavova, chairman of the Chance for the Children and Nature of Bulgaria foundation.