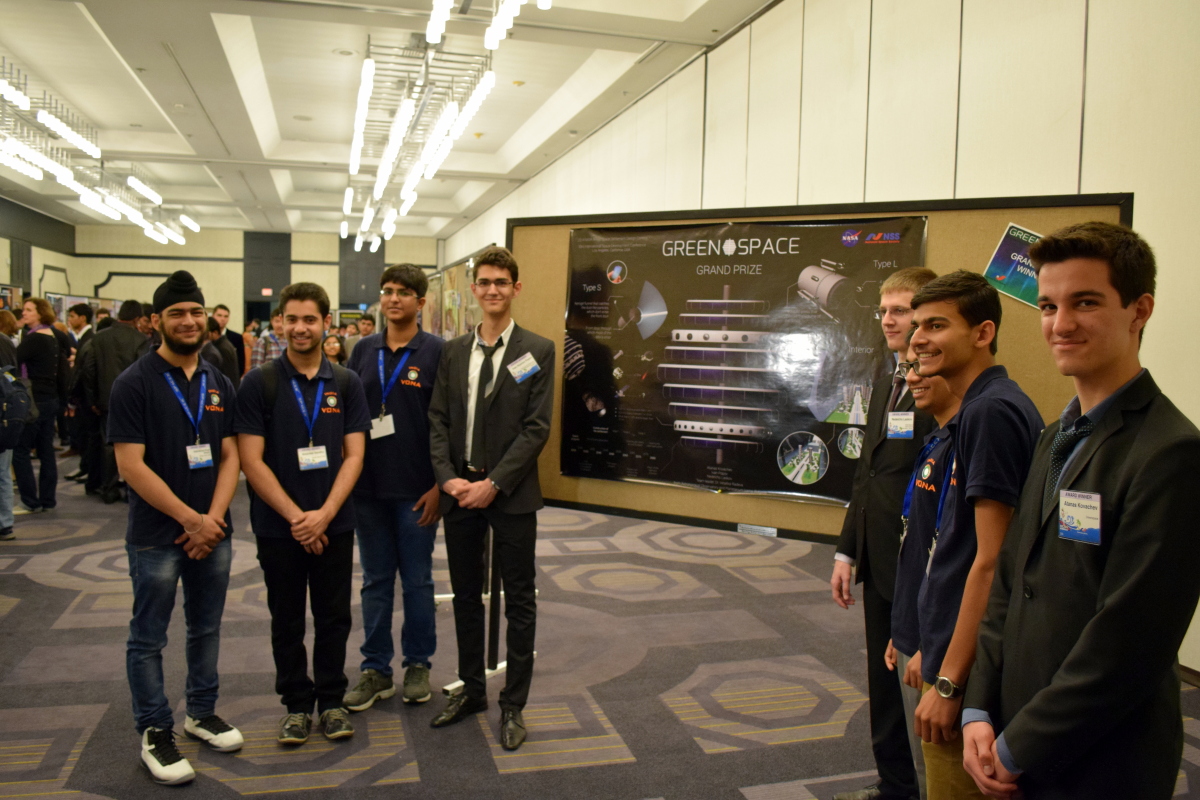 At the NASA conference , USA 2014
FOR THE FIRST TIME BULGARIAN STUDENTS WIN THE GRAND PRIZE AT THE NASA CONTEST.
For the first time Bulgarian students win the Grand NASA Prize. Three teams of Bulgarian students, who have presented their project at the most prestigious international contest for students, that is organized by NASA and the National Space Society, won awards. They are 21 young people, who are studying in the Astronomy courses at the Astronomical observatory and Planetarium in Varna.
For the first time a team of Bulgarian students wins the highest award: The Grand NASA Prize at an international contest. A team of three students: Nedelcho Laskov, Atanas Kovachev and Ivan Popov have developed the project Green Space. In this project the young people review the problem of the space ecology and present their technological solution in the form of a space colony.
The second team, that has presented the project Daphne wins Grade 12 First Prize (Large Team). These are the students: Kaloyan Kirilov, Rosen Krumov, Alexander Ivanov, Ivelin Georgiev, Stefan Gramatikov, Nikola Dimov, Petar Daskalov, Ivan Angelov, Christin Nikolov, Gloria MIteva, Kosara Yankova. The young people developed a space colony of three cities on and in the asteroid Daphne and on it they travel to the extrasolar system Gliese 667, where they will populate one of the planets.
The third team wins a Grade 11 Honorable Mention for the project Aqua de Vita. These are the students: Nanyo Penkov, Denis Hadjivelichkov, Stanislav Shterev, Ilko Shtirkov, Neda Ivanova, Alexandra Koicheva, Yana Damyanova. They have developed their project for space colony, that will extract water from the comets and will supply future bases on the planets and the network of space colonies, that will be created in the next centuries. Instructors of the three teams are dr. Veselka Radeva, astronomer at the Astronomical observatory Varna and Silvia Zaharieva, teacher in Physics and Astronomy at the Mathematics School dr. Petar Beron, Varna.
We are happy to announce that Chance for the children of Bulgaria Foundation or a third consecutive year has covered the fees for the participation of the young talents from Varna at the NASA and NSS International conference for space development in USA, that was held this month. At a special ceremony the NASA International contest Grand Prize was awarded to the winning team if students and their instructors.
Bravo, Talents! Again you have shown to the world your skills and abilities and you have glorified Bulgaria! We are proud of you!