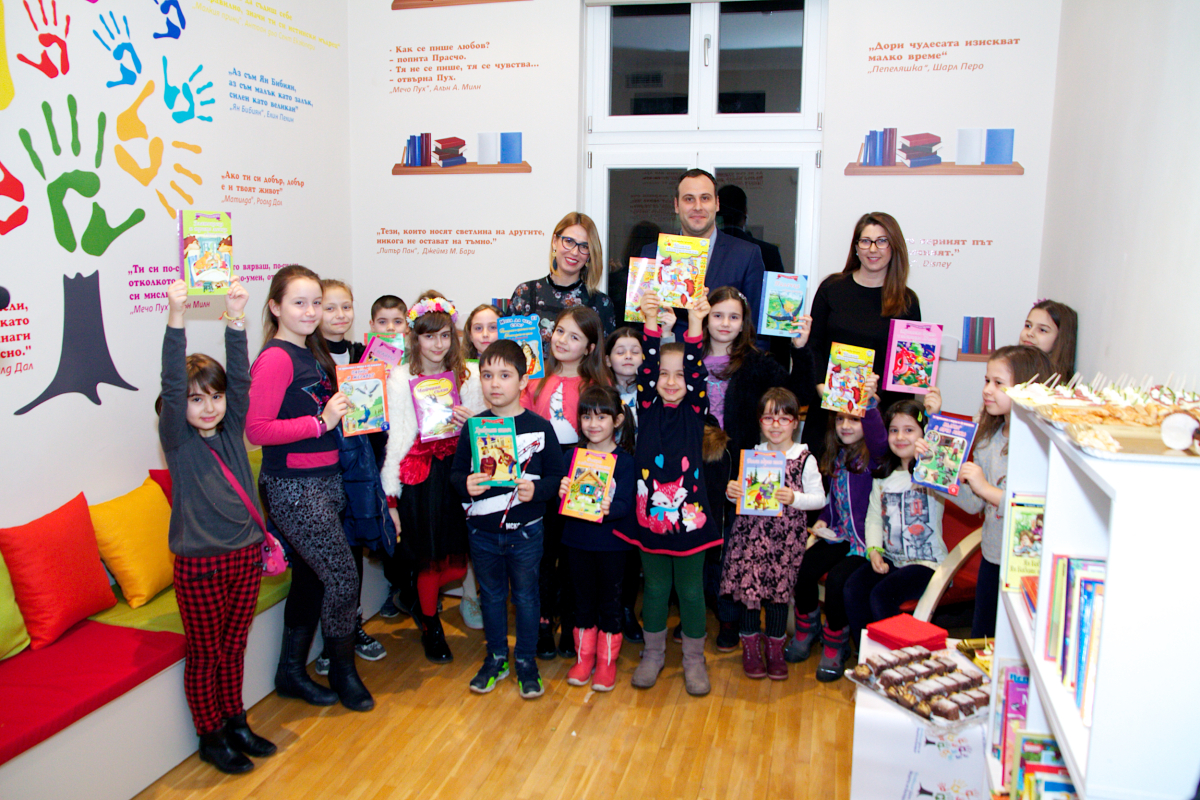 Literary club - reading room "The Little Prince"
Chance for the Children of Bulgaria foundation opened a free reading room The Little Prince in Burgas
With a lot of joy and children's smiles, the first of its kind club was opened - a reading room for children from 6 to 13 years of age.
Yana Vassileva, a former graduate of the Center for Young Talents and currently a student of Pop and Jazz Singing, congratulated the numerous guests with the anthem of the Chance for the Children of Bulgaria foundation, the author's song Childhood. The event continued with interesting information and facts about the importance of reading books.
We believe that reading must not be an obligation! And the books are countless - it is very nice to discover new and new pearls. Therefore, in the titles offered, children will find not only those books that are being taught in school or those from the childhood of us - the adults. We love Pippi and Carlson, but we invite you to become acquainted with new characters from modern and contemporary children's literature! The first enthusiastic little readers experienced wonderful emotions in our new reading room and reaffirmed how useful this initiative is for the intellectual development of adolescents! We expect many children and teachers from the primary schools in Bourgas to participate actively in our literary readings!, summed up the idea Liliana Slavova, chairman of the Chance for the Children of Bulgaria foundation.
We are honored and happy that the Foundation has approached us to support this extremely important project for the children of Burgas. We are glad that we are part of the initiative and we believe in its success, said Martin Zhelev, manager of Grand Hotel and Spa Primoretz, to the audience.
During the event, an exhibition of the drawings from the First Regional Online Children's Creative Competition on My Angel Mum, organized by the hosts, was also opened. Prizes and diplomas were awarded to the winners of the two age groups - Maria Juriva Blagoeva, Lyuben Karavelov school from Kiten at the age of 10 and - Yoanna Tihomirova Yanakieva at 11 years from Sozopol, Sofia University. The organizers gave luxurious painting sets to the talented girls, as well as free one-month training in fine art projects at the Center for Young Talents.
For the final, all the children present were invited to the new colorful and bright reading room The Little Prince, where, on trial reading, the kids touched the magic of the books. The event ended with treats prepared by Sladko and Soleno. The first friends of Literary Club Reading Room The Little Prince received a gift on their way home. - a new book for the home library.
Free Literary Cube Reading Room The little prince accepts phone bookings on +359 56 825 727; + 359 887 201 033 and is located in the building of the Center for Young Talents, Atanas Sirekov Square #4 (opposite the Municipality) in Burgas.