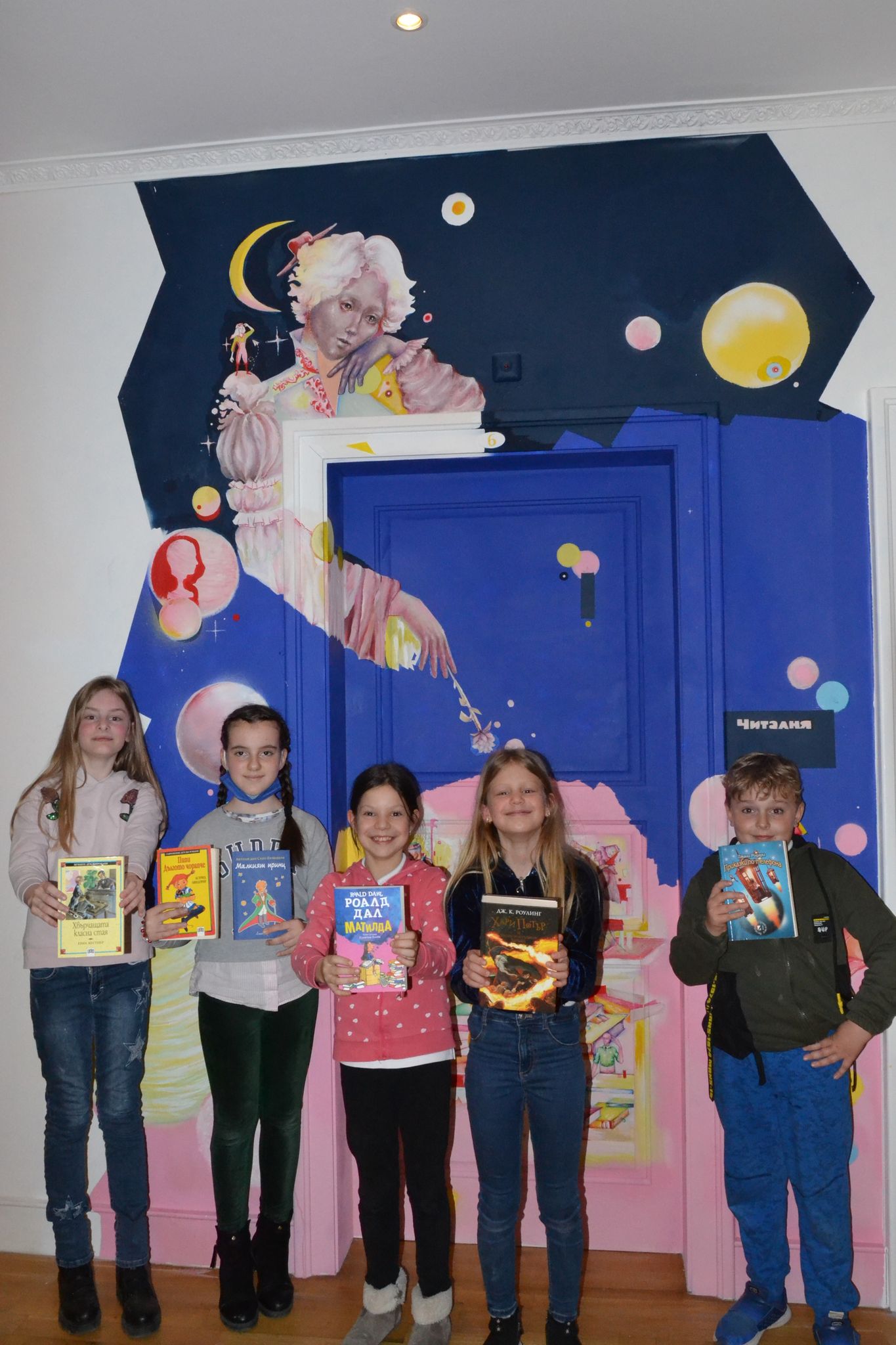 The favorite place of the Burgas children - Literary Club-Reading Room "The Little Prince", celebrates its birthday not only with a new look, but also with a new challenge to all those who love books.
The young artist Elena Mazneva, one of the most prominent participants in the art projects of the Center for Young Talents, turned the reading room door into a beautiful and colorful entrance to the vast magical world of the Little Prince and all literary characters.
Over the years, countless book lovers have had the opportunity to pass through this entrance and immerse themselves in the magic of the endless literary world. And the readings, talks, presentation of new books and authors, participation in various campaigns stimulated and further fueled the love of young and old for books and reading! This year, on the occasion of its birthday, with the help of book lovers of all ages, the Little Prince Literary Reading Club chose its favorite foreign children's author for 2021. Astrid Lindgren, J. K. Rowling, Erich Kestner, Roald Dahl, Antoine de Saint-Exupery and Gianni Rodari were among the names of writers who have stood the test of time and for many generations. The eternal Astrid Lindgren received the most readers' votes and thus became the favorite foreign children's author for 2021 at the Burgas reading room.
"Children's authors are the first writers we meet. Their works leave a lasting impression on our souls and hearts from an early age. We owe our love for books to them and many of us often return to the fondest literary memories. We understand forever the great importance of books in people's lives, especially in difficult times like those of a global pandemic, we know that books are not only a faithful friend, but also manage to inspire courage, faith and optimism. With this yet another initiative we want not only to recall some of the brightest names in foreign children's literature, but also to stimulate reading through their eternal cultural heritage.", Commented Liliana Slavova, President of the Chance for Children and Nature of Bulgaria Foundation and founder of the Literary Club-Reading Room "The Little Prince".